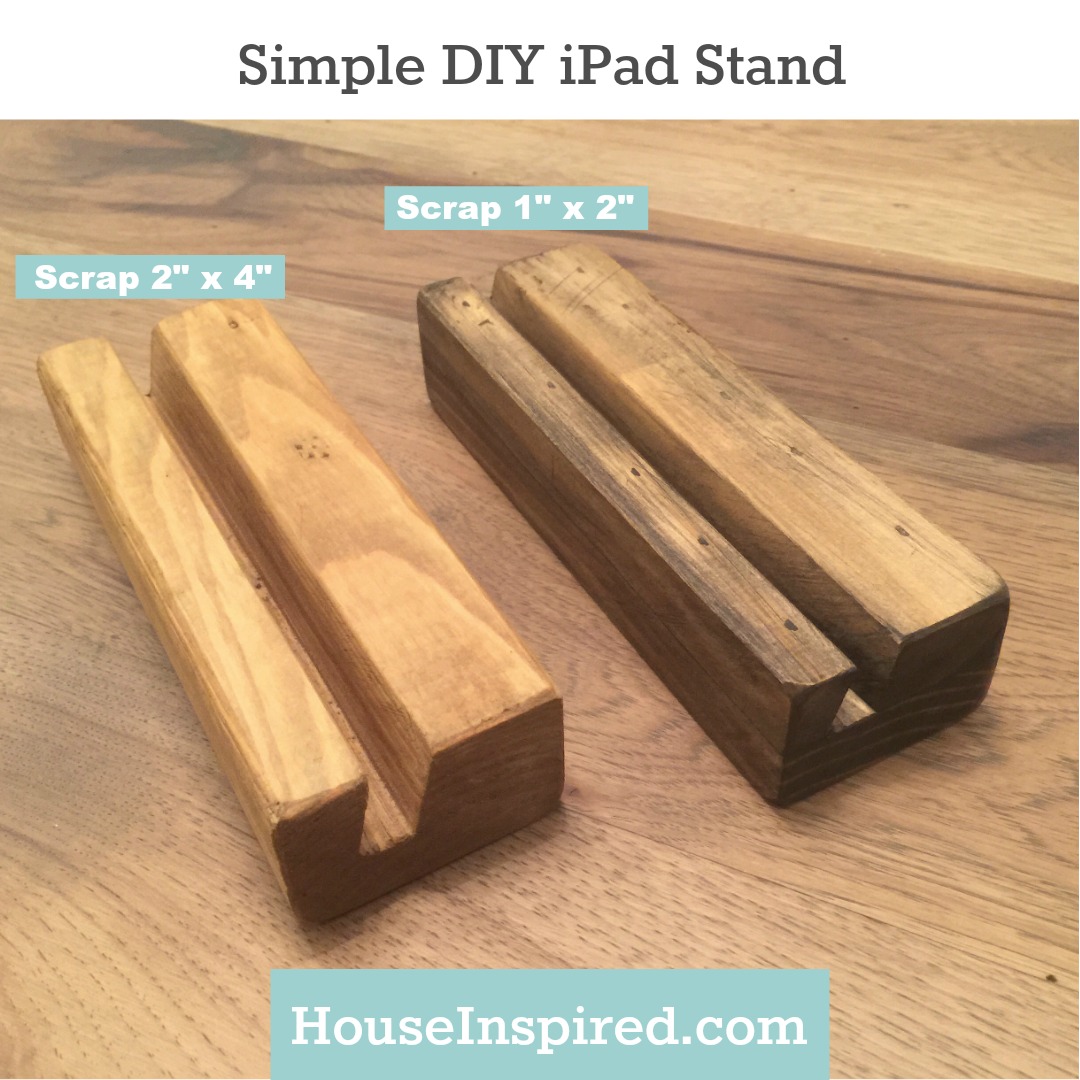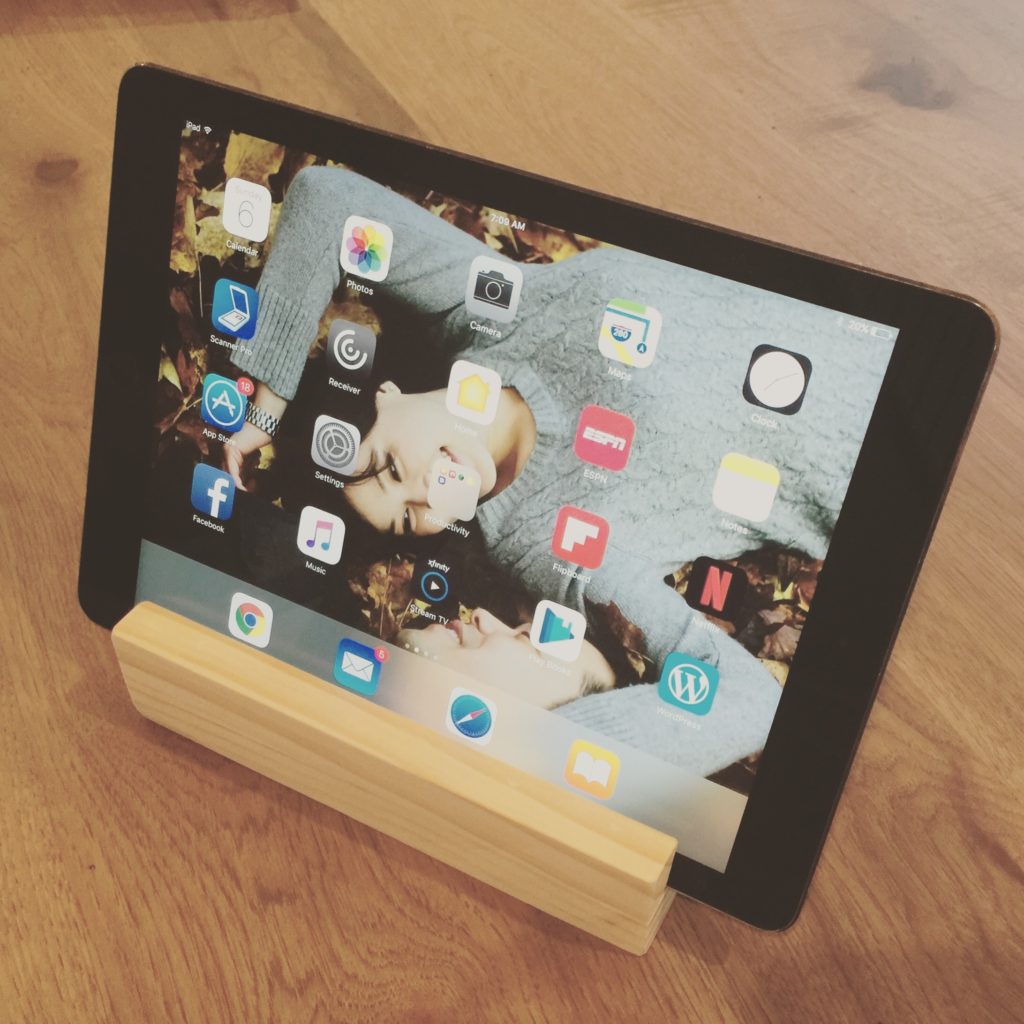 Here is a simple DIY iPad stand for your iPad slippage needs.  We've had an iPad Air for several years now and we use it all over the house.  We use it to watch recipes, as a distraction for our little one, Netflix at night, etc.  I've had a couple cases & stand for the iPad over the years, but all inevitably broke or failed to keep the iPad upright for easy viewing.
Given that our iPad is an older model, I did not want to spend more money for a new case.  So, I decided to mimic various DIY wood stands I'd seen over the years on Etsy.  Why not order from Etsy?  Because I'm not about to shell out $25 or more + shipping for a piece of wood.  So I decided I'd make my own DIY iPad Air wooden stand.  This stand is best suited for a tabletop, desktop, or countertop surface.
So I grabbed some scrap wood that was strewn about my basement (I will clean up the basement soon Helen… I will…).  And I made two versions of the stand, one made out of scrap 1″ x 2″ wood and another out of scrap 2″ x 4″.
(For your convenience, this post contains affiliate links to supplies or tools I used to complete this project.  Purchases made using these links help support House Inspired's website.  There is no cost to you for using these links. Please visit our Policies page for more details).
Materials Needed
*Scrap 1″ x 2″ wood or Scrap 2″ x 4″ wood
*1.25″ 18 gauge brad nails & Finishing Brad Nailer for the 1″ x 2″ version
*Table saw
*Miter Saw
*Wood filler
*Wood stain of your choice.  We tried a couple different stains: Dark Walnut by Minwax and Briarsmoke by Varathane
*Sand paper/Sanding block
*Wood polish/wax paste. We used Fiddes & Sons Supreme Wax Polish in Stripped Pine color.
DIY iPad Stand: 1″ x 2″ Scrap Wood Version
First, I took a scrap piece of a 1″ x 3″ and cut it to a length of 7″ to use as the base (actual dimensions of a 1″ x 3″ are 0.75″ x 2.5″, here is a quick chart of nominal vs actual lumber size that you purchase at most retail hardware stores).  Next, I cut another seven inch long segment of 1″ x 3″ wood into two pieces with a 15 degree angled cut.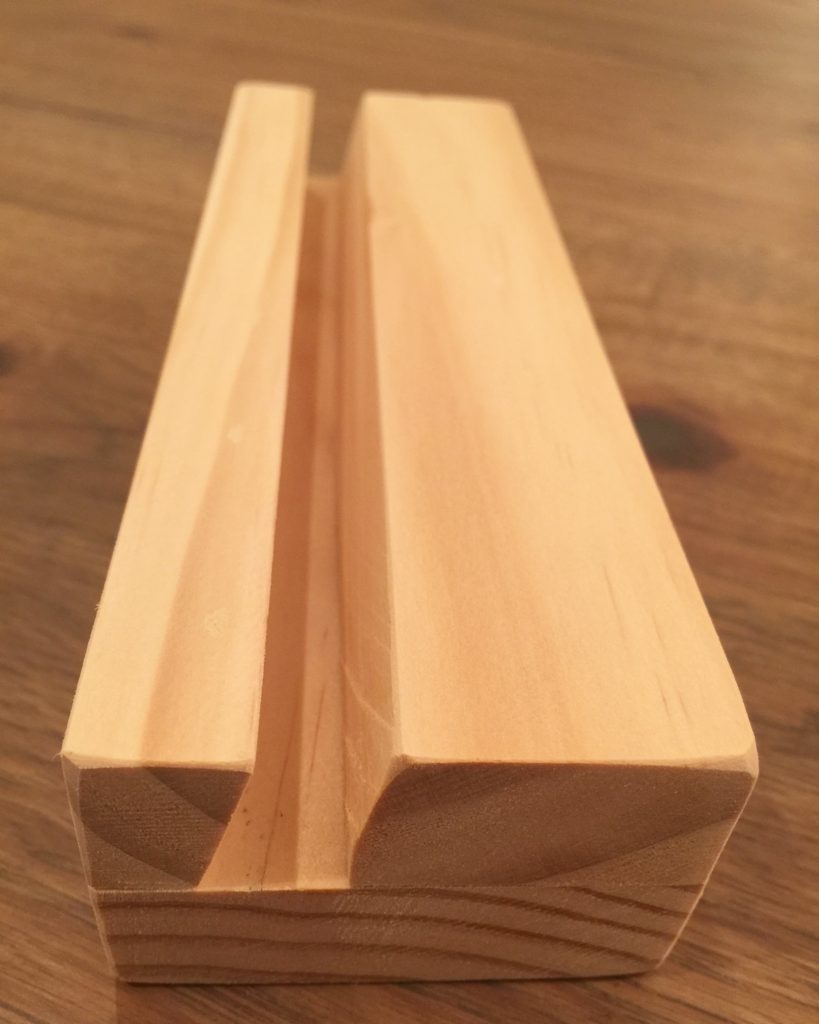 I used my Ryobi 18 One+ Airstrike Brad Nailer (affiliate link) to nail the wider piece towards the rear end of the base.  I then sandwiched the iPad Air between that rear piece and the slimmer front edge, to get a sense of where I'd nail the front piece.  (see the image and it will make sense).  Then, after some trimming off some excess wood, filling the nail holes, and sanding… voila all done with the build.
DIY iPad Stand: 2″ x 4″ Scrap Wood Version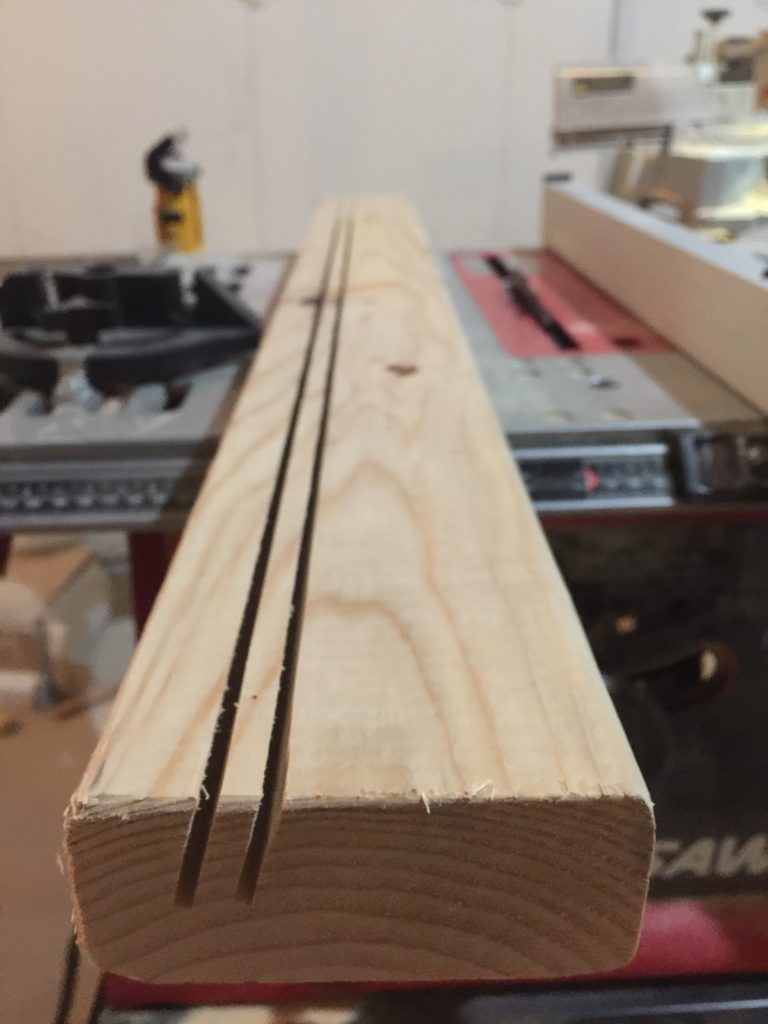 For my second version of the stand, I ran a scrap 2″ x 4″ piece of lumber through the table saw a couple times, with a 15 degree cut about one inch from the front of the stand.  I made a second cut at a 15 degree angle, just about 3/8″ to 1/2″ posterior to that.  These two cuts set the boundaries for the slot for the iPad to sit in.  I ran the lumber through my table saw probably about 5-6 more times to cut out the wood sandwiched in between the two boundary cuts I made.  After that, I cut the wood to length, and ended up with three 7″ inch pieces.
If you want a somewhat stabler stand, I'd leave it at the current width.  But, for the sake of aesthetics, I wanted a slimmer profile and chopped the width to 2 & 3/8″ wide.
Finishing Process:
*Fore the 1″ x 2″ version, I filled in the nail holes with wood filler.
*I sanded down all for stands, in particular I tried to sand the slot/groove as best I could and sanded down all the sharp edges for a more finished look.
*If you want to go all out, pre-treat the stands with wood conditioner for staining.  But, I ended up staining the stands due to my impatience.
*After the stain set and dried.  I gave the stands a once over with some wood wax polish.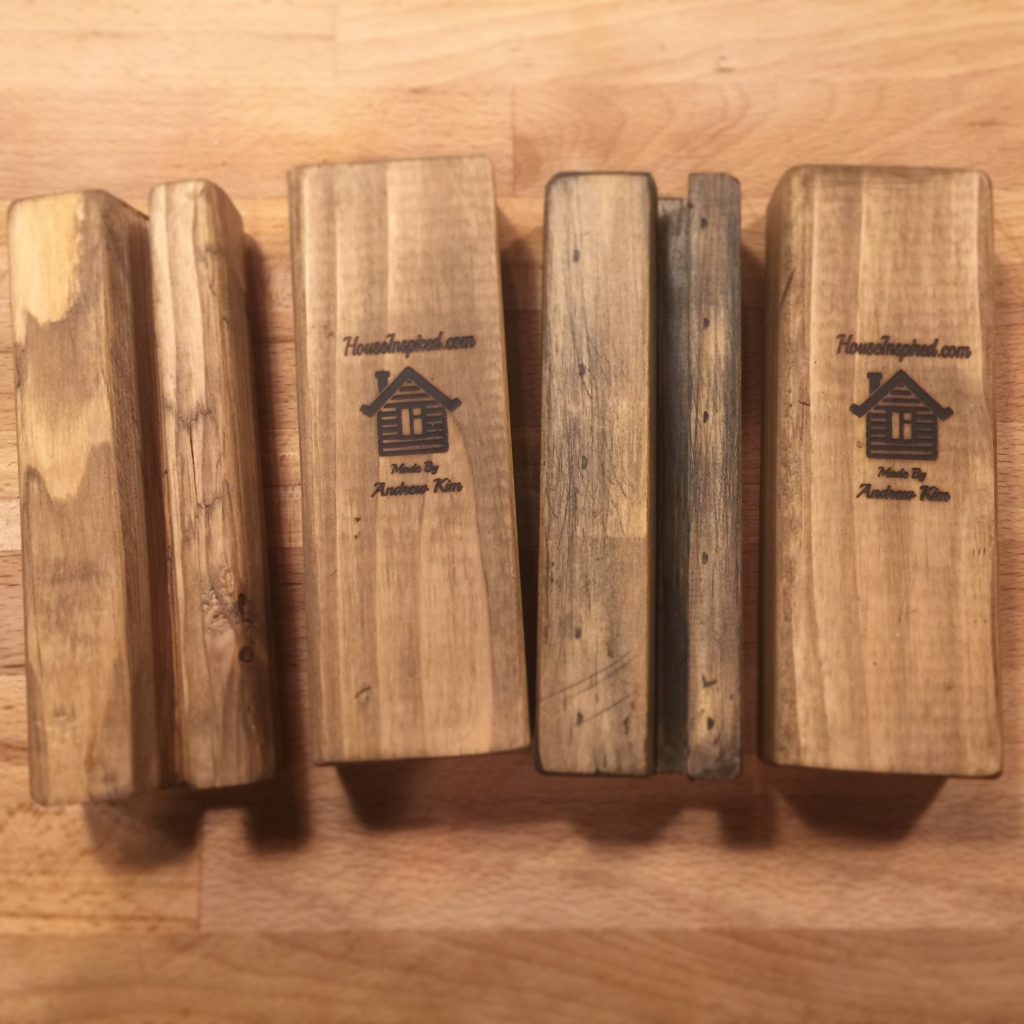 What's great is that you can customize the placement of the cut, thickness of wood, how you want to stain the wood, and the angle you want the iPad to rest.  I figured we'd use this the most in the kitchen so we went with a more upright 15 degree angle.
Between the two versions, I actually thought constructing it out of the pieces of nailed 1″ x 2″s was easier, as I found having to run the 2″ x 4″ several times through the table saw to be annoying.  But, in the end, the 2″ x 4″ piece is seamless, since it's a single piece of wood and may be more aesthetically appealing to the eye for you.
I made this on a whim last night in a span of about 30 minutes (not including waiting for the drying time of the stain of course).  Time well spent.
No more slipping and falling iPads for the price of…. time & energy.  And, the satisfaction of another quick and simple DIY project successfully completed.  Thanks for checking out our post about our DIY iPad Air wooden stand.
~Andrew K